Business Outline
Connecting Hearts
We will aim to achieve a society in which everyone can live spiritually enriched lives by creating new value, using it and refining it with our customers. In this way, we will be "a Group that is co-creating value for individuals, communities, and people's lifestyles."
And placing importance on the bonds with each and every customer, as their partner we will share joy with them over their lives, and create eternal trust.
Daiwa House Businesses
Single-Family Houses
In 1959, Daiwa House Industry developed the Midget House, said to be the origin of the prefabricated house,and sent it out into the world. For half a century thereafter, we have been rolling out steel-frame and wood structure single-family houses while honing our house building techniques and know-how. We introduced xevo single-family houses in 2006 and xevo GranWood single-family wood structure houses made of 100% Japanese timber in 2013. In 2014, we launched xevoΣ (xevo sigma), our high-end steel-frame single-family houses that enable the creation of large spaces with 2.72-meter-high ceilings and window-openings up to a maximum length of 7.1 meters. The series employs new construction methods such as energy-absorbing load-bearing walls capable of maintaining their initial performance levels even in the event of repeated massive earthquakes. It is gaining favorable reviews. Further, in multistory residences, we developed the skye range of heavyweight steel-frame three- four- and five-story houses. Through this, we are proposing an optimum plan to suit a desired vision of the future that includes not just housing for personal use but also housing for combined use with rental units, retail outlets and hospitals.
In addition, we are promoting community development and sustainable house building by expanding SECUREA our lot-subdivision housing development brand and For Nature our environmental brand.
In the sales area, we are realizing the needs of our customers with the integrated proposal capabilities of Team-xevo, where experts such as designers and interior coordinators sit down with sales staff to arrange house building. After our customers have moved in, we continue to support a safe and comfortable life for them for years to come through attentive after-sales service and a long-term guarantee system.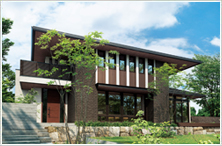 Rental Housing
Daiwa House Industry's rental housing is being rolled out nationwide under the "D-room" brand name. Using our experience in providing a cumulative total of around 1,020,000 rental housing units (as of the end of December 2017), we are developing products that anticipate the needs of tenants. In particular, anti-crime rental housing products for Women to SW specifications (Safety and Security 'S' for Women 'W' ), launched in June 2011 with a cumulative total of completed contracts of approximately 170,000 rental housing units (as of the end of December 2017), are supplying rental housing that supports tenants. Features such as home security that has response services available as standard, offer of items that enhance storage capacity, and thoughtful installation specifications developed from women's perspectives have been well-received. In addition, based on land assessments and developments in rental housing in neighboring areas, we are creating careful management plans and proposing them to land owners along with financial planning.
At the same time, based on the fundamental principle of "after construction is when we really are your partner," after handing over products we conduct periodic diagnosis of buildings, of course, but also in terms of management we have experts on hand to offer inheritance and tax consulting services, a management agency service and websites for tenant advertising provided by the Daiwa House Group. We offer our total support system "DAPS" for customers who have become owners of rental properties and provide them with long-term and comprehensive support for stable management.
Moreover, as a land owners' association for exchanging information, we organize events such as owner meetings all over Japan so that they can run their rental business with peace of mind.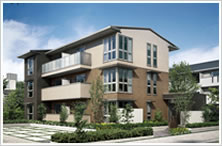 Commercial Facilities
Land owners who are thinking of tax measures or ensured profitability by effectively operating real estate and tenant companies looking for potential store sites for new business developments: joining both these needs is Daiwa House Industry's system for efficient land use, the "Daiwa House LOC (Land-Owner-Company) System."
This LOC System utilizes our information networks all over Japan on lands and stores. It is a system that lets us propose appropriate business plans based on our abundant know-how and careful surveys. At the same time, it allows us to take complete control of all processes from building design to construction.
In turn, land owners and tenant companies can run stable businesses for a long time together and are greatly contributing to building new communities and revitalizing areas.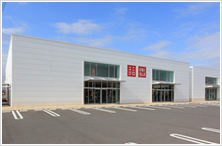 Construction Business
Our construction business, which builds business facilities for our corporate clients, has been running since our founding in 1955. As a reliable partner for our customers, we coordinate requirements related to businesses from land to buildings and collaborating companies. We also carry out the optimum business proposal relating to customer's land and buildings via the Partner Coordinate System that takes complete control of all stages.
In each field, including distribution systems, medical/nursing facilities, food manufacturing facilities and business facilities for offices and showrooms, expert staff respond to customers. We are not just mere building contractors; we also perform support for facilities construction solutions.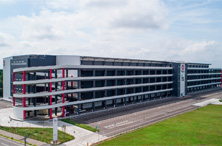 Condominiums
The Company is carrying out operations while aiming to provide condominiums with high asset value and high added value for society and consumers. Since its foundation, it has provided as many as 92,856* condominiums to customers all over Japan.
At Daiwa House Industry, we are developing the condominiums, "Premist," all over the country to customers seeking high-quality living so that we can respond to the varied lifestyles of people living in condominiums. While utilizing our expertise as a house manufacturer, we are seeking high value in a total integrated system from planning to after sales care. Standard performance is essential if a building is to last a long time, of course. But we also provide condominiums with ensured quality, comfort and asset value, born of our own unique criteria for comfort and safety, management systems and after-sales service.
In addition, we are developing "the D's Bridge condominium asset valuation system", and thus helping our customers to maintain and pass on asset value.
* Total units developed as of January 2018. Also includes properties other than those in the Premist series.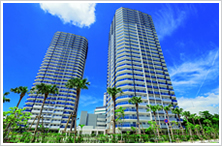 Environment and Energy Business
Making use of technical and presentation capabilities, we are developing businesses to solve our customer's energy related challenges. They center on energy generation businesses such as solar power generation systems and megasolar systems; energy-saving businesses like energy-saving improvements for lighting and air conditioning; energy storage businesses such as lithium-ion batteries; and Power Producer Supplier (PPS) businesses.
We are also actively involved in megasolar systems, and contributing to the spread of renewable energy.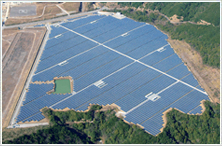 Overseas Business
Ahead of today's global era, we started operating business in China in 1972 when there was a restoration of diplomatic relations between Japan and China.
We started full-scale activities in the 1980s by establishing local subsidiaries and joint venture companies. In addition to constructing, operating and managing rental housing for expatriates, we have collaborated with local real estate development companies, and been carrying out business activities, such as operating, managing and outsourcing hotels, rooted in local areas for over 30 years.
Further, today we are starting new businesses in Asian countries, Australia and the U.S. and also investigating the possibilities of new businesses in other countries.